Generate Anime Art With MuratiAI
 Simply by describing what you want to see and our Artificial Intelligence transforms
your words into art.
0x69C2fcAe7e30b429166BD616A322e32BeC036bCf

Copied!
MuratiAI is the first advanced anime-focused Platform web and Telegram bot that lets you create a masterpiece and anime video with a simple command in your Telegram group or with the Platform web.
We are making image and video generation faster and more accessible than ever before.
We aim to use the power of AI technology in order to produce high-quality visuals quickly and accurately. We want to make it easy for users to use all of their imagination while having fun. as well as creatives, marketers, and other professionals to generate image and video with maximum efficiency.
We aim MuratiAI to become a go-to tool for any user who needs to generate image and video in a short amount of time.
Our goal is to revolutionize how people create image and video by leveraging advanced AI technology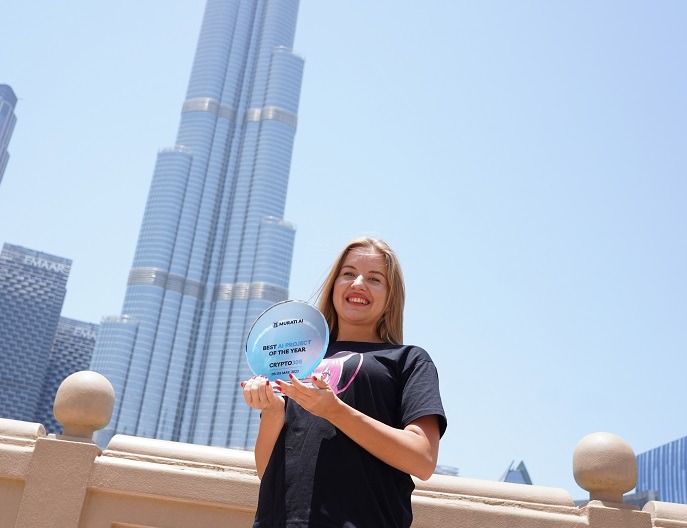 MuratiAI won the best AI project of the year
Generate amazing anime artworks in seconds using the power of AI by MuratiAi.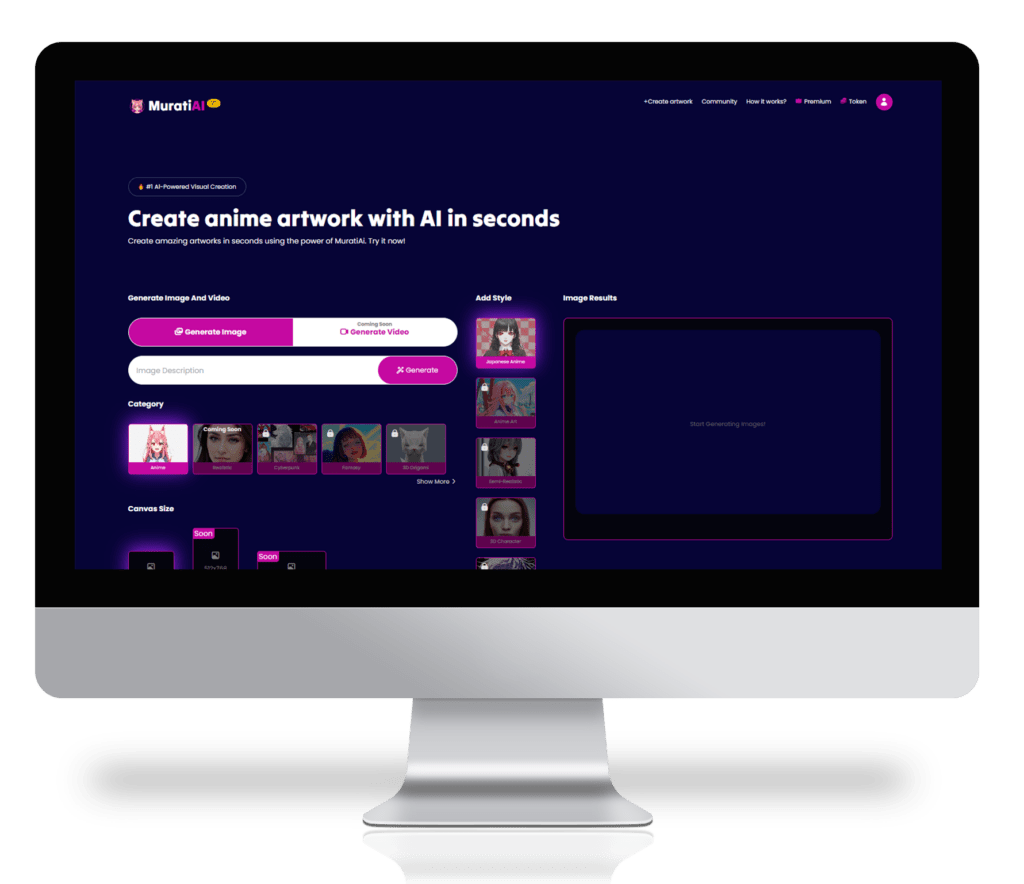 ELON MUSK LIKE OUR
platform
The like from Elon Musk on a tweet from MuratiAI's official account holds significant implications for the project. Elon Musk is widely regarded as one of the most influential figures in the tech and innovation space, and his interest in MuratiAI signals recognition and validation of the project's innovative and groundbreaking nature.
Additionally, Elon Musk's like may have a positive impact on the market sentiment surrounding MuratiAI's native token or cryptocurrency. The attention garnered from Elon Musk's endorsement could lead to increased demand and trading activity, potentially driving up the token's value.
Overall, Elon Musk's like serves as a powerful endorsement for MuratiAI, amplifying its visibility, credibility, and potential for success. It validates the project's technological achievements and positions it favorably within the AI industry, attracting further attention and opportunities for growth.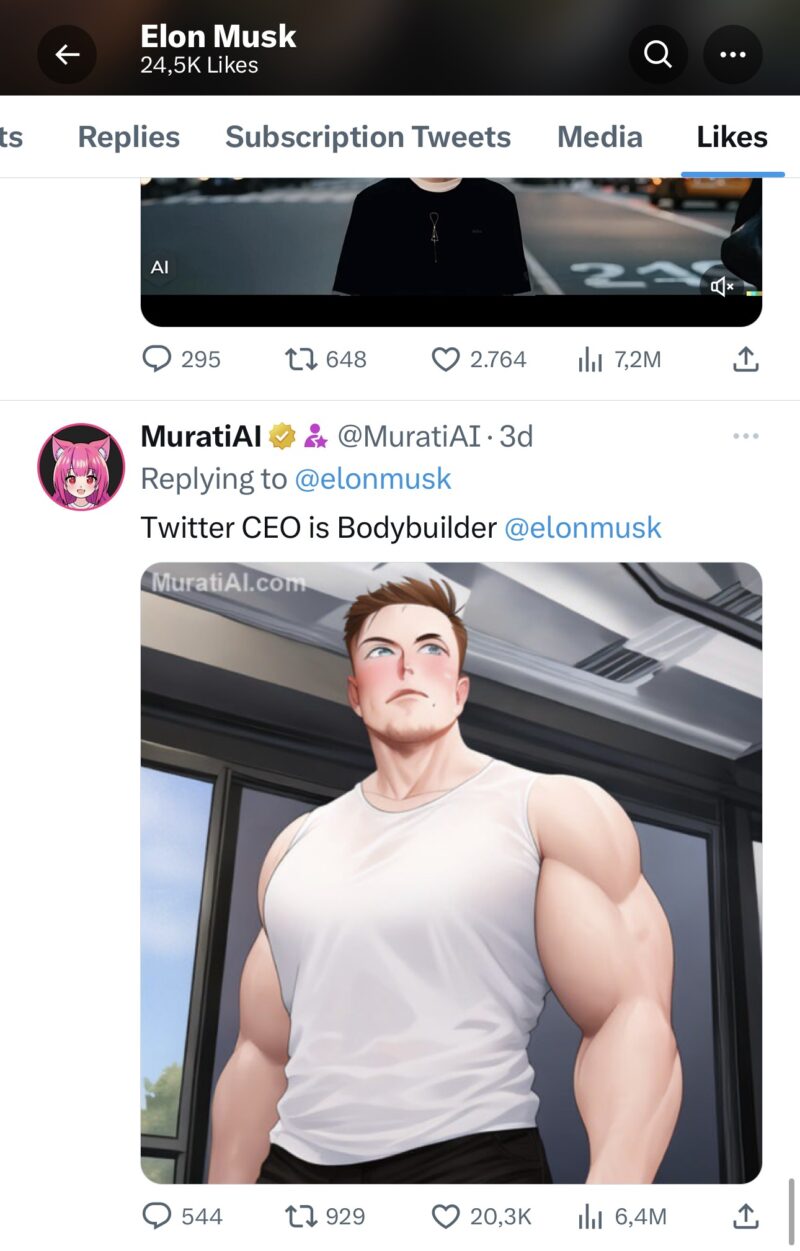 MuratiAI Bot is simple and easy to use. Follow the steps below to add Mai to your channel!
If you need some tips to maximize the quality of your art, be sure to check out our brief TUTORIAL.
ADD MuratiAI Bot TO TELEGRAM

– Add MuratiAI Bot to your group using the button below.
– Type your command + text prompt. Hit enter to generate.
ADD MuratiAI Bot TO DISCORD

– Add MuratiAI Bot to your server using the button below.
– Give Mai full permissions in your server.
– Use the /commands listed to enable MuratiAI Bot in all or specific channels. You can also enable NSFW content with the /commands provided by the bot.



ADD MuratiAI Bot TO YOUR GROUP
MuratiAI will soon provide a revenue share to $MuratiAI token holders. With a simple stake-to-earn model, those who lock-up their tokens will be able to share revenue generated from:
– Paid advertising slots on the Murati bot
– Paid advertising on Murati web app
– Taxes generated through token volume
– Revenue received through partnerships e.g. paid AMAs and cross-community events
– Revenue from a range of NFT use cases



PAID AVERTISING SLOTS ON THE MuratiAI BOT
PAID ADVERTISING ON MuratiAI WEB APP
TAXES THROUGH TOKEN VOLUME
REVENUE RECEIVED THROUGH PARTNERSHIPS
REVENUE FROM NFT USE CASES
Phase 1
• Bot build and proof-of-concept testing
• Website and socials launch
• Pre-Launch Marketing
• Liquidity raise
• Token launch
Phase 2
• Community activation & base model enhancement
• PR Marketing
• CoinMarketCap Listing
• CoinGecko Listing
• AI Video Generation
• Launch full suite of custom in-house models
• Text-to-Speech activation
• Heavy marketing
Phase 3
• First major partnership
• Web app V1 live
• Listing on CEXs
• Image to AI Image Edit
• Surprises to announce
• Text-to-Speech Video Integration
• Mobile App Android & iOS
• Premium launch
• Staking with initial rev share
Phase 4
• Google Extension Release
• Firefox Extension Release
• More major partnerships
• More in-house models
• Listing on CEXs
• Multilanguage AI
• Launch The First AI NFT Marketplace
• Best-in-class render quality
• MuratiBrowser Release
Here are some stunning anime images and captivating animated artworks, all crafted by our talented community using our AI technology.
Create beautiful animated art in seconds with MuratiAI
An exciting New World with Our AI Anime Image Generator awaits you!!
Create a MetaMask Wallet using either a desktop computer or an iOS/Android mobile device. That will allow you to buy, sell, send, and receive $MuratiAI
You can buy BNB directly on MetaMask or transfer it to your MetaMask Wallet from exchanges like Coinbase, Binance, etc.
Access your wallet by clicking 'Connect to a wallet' and selecting MetaMask.
You can start swapping as soon as you have BNB available! Press 'Select a token' and enter the token address or search for it on the tokens list.
Let's Build Your Story Together
Our Advisors
Professor Tony Tong
Hong Kong Blockchain Association HKBA.club 香港區塊鏈聯會 Edi.College 元宇宙教育學院 Co-Founder, Dena Group 德纳律师事务所 Tony Tong, who previously worked with CloudChat, a company that achieved significant success, reaching over 100 million. Tony Tong has joined our team as an advisor, leveraging his vast network and connections to assist us in achieving our goals promptly and effectively. It is worth mentioning that Tony Tong is followed by CZ and holds the position of chairman at his own exchange, known as HKBA.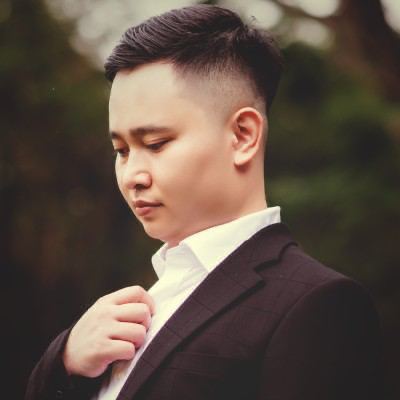 Dr. Peter Thai
Dr. Peter Thai is the CEO of Global Virality, a leading software development and consulting firm in the blockchain industry. He earned his Ph.D. in Engineering from the National University of Singapore at the age of 25, having completed his studies in just two years. In addition to his extensive scientific background, Dr. Thai is a well-regarded angel investor and renowned advisor for marketing and technical matters within the realm of blockchain.